A welcome Message from the Director of the Center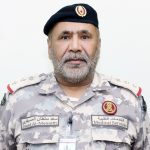 The celebration of the graduation of the batch nine marks also the celebration of the first year of the opening of the medical center under the auspices of His Highness the Emir of Qatar, Sheikh Tamim Bin Hamad Al Thani, in January 2013.  This edifice of medical excellence which will be supportive of the process of the college comes from the keenness of the senior leadership to provide better health services to the cadets of the College and employees of the armed forces. It has reached more than 20,000  visits since its opening.
The management of the Medical Center and during the course of a full year  was keen to work steadily and confidently towards the provision of a noble mission that stemmed from the clear vision of extending an optimal health service for those in need from the people of the college and the employees of the armed forces by applying the latest technology of diagnostic methods and by hiring  highly skilled doctors and professionals. Focusing on the clear objectives to provide comprehensive medical care, the management of the medical center signed several agreements with friendly countries and developed countries in the areas of military medical services such as the convention concluded with the medical services of the Bulgarian Armed Forces in the field of physical therapy and functional rehabilitation and other functions , and the one contracted with Seoul National University Hospital in South Korea to establish centralized medical laboratories that satisfy the specifications for accreditation set forth by the American Association for Science Tissues and Laboratories. An agreement in principle has also been signed with the Imperial University in the UK to bring in top-notch medical expertise , in addition to the agreement with the medical services of the Armed Forces of Tunisia to attract qualified medical staff for all the support services , while many initiatives are under way.
We are also pleased to offer you the most information concerning the genesis and development of the center along with the vision, mission and objectives and the most specialized medical services provided to patients and visitors and at different levels.
The Medical Center consists of three main buildings. In the first phase is the main building that includes 18 clinics and is located on an area of ​​4000 square meters. The second building, which includes medical stores and emergency vehicles and some general medicine clinics is located on 1,200 square meters area. The third building which includes key laboratories (under construction) will be located on an area of ​​1,200 square meters. The medical center is the nucleus of the current new Ahmed bin Mohammed Military College Hospital projects.
Colonel Saad Sultan Almsefri
Director of the Medical Center